The 80's were great for a lot of reasons like Michael Jackson and of course the year I was born. So the invite to the Awesome 80's Prom was a definite yes! Except, I had no clue where to begin with this throwback. So I started by asking those who actually went to prom in the 80's and watching YT tutorials. Here is what I came up with:
BIG, oversized Hair: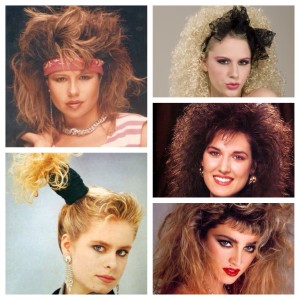 LOTS of Aquanet hairspray
All pinned to one side, side pony tail, or a huge perm
And poofy bangs (if you have them)
Makeup:
Heavy Pink Blush
Bright Lipstick
Bright eye shadow with multiple colors
Outfit: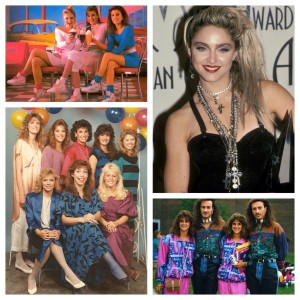 The poofier the better – think poofy sleeves and a tulle skirt
Your dress should be in a fight with your over-sized hair – the bigger, the better
Stone washed pants
Parachute pants
Leather pants (currently in style)
Overalls
Neon tights
Denim Jacket
Shirt tied to one side
Madonna Fashion
Really… anything neon
Shoes:
Puma
Adidas
Pony or L.A. gear sneakers
Neon heels
Scrunched socks
Accessories: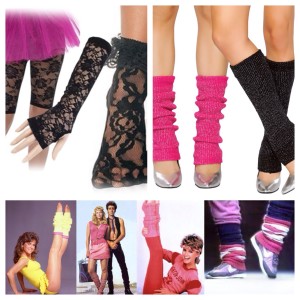 Fishnet gloves and/or stockings
Madonna pearl necklace
Lace bow for hair
Terry headband
Leg warmers
Press on Nails or neon nail polish
Slap bracelet
Scrunchies
Don't forget the boutonniere
There are so many creative ideas out there. If you are still having trouble or want something a bit more unique, then look at 80's bands, tv shows/movies, and other events that were big during that time. Just for fun… here is a SATC throwback: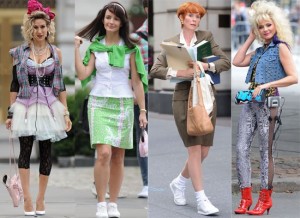 Try finding outfit ideas through thrift stores first, then grab accessories at a party store (that's where I found the gloves). Cheers!