As we all know, Mother's Day is every day. And I am lucky enough to have my mother in my life and get to celebrate her birthday every year, the day after mine!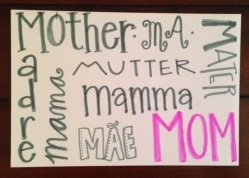 The past few years I have lived away from home, so my mom usually receives a card around this time. But the craft bug has bitten me, so I decided to provide her with a gift from the heart.
There were two handmade gifts and one letter.
The first, was a wine cork heart I crafted on a heart shaped cardboard cutout; and then finished the design with paint.
Supplies:
Cardboard
Wine corks
Gorilla glue
Scissors
Paint
Paint brushes
Newspaper
Directions:
Simply cut out the design of your choice from cardboard. I found the heart shape in word, printed the desired size, and used that as my outline. Glue the wine corks down to the board and allow drying time. Choose color(s) you would like the shape to be and paint away. I decided on a faded red – pink color, so mine took a couple coats and some time to mix the colors to get the shades I desired. Allow drying time, and ta-dah!
For gift number two, I decided on a frame that enclosed words to describe and spell mother. I found this idea on Pinterest, however, I was not about to purchase the product. So…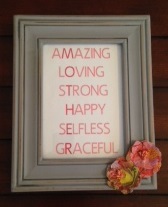 Supplies:
Computer and printer
Scissors
Frame
Glue (optional)
Flowers (optional)
Directions:
Depending on the person, pick out a name that you wish to showcase; and from that name, use words to describe them that have letters to match up to their name. I picked up a frame on sale at TJMAXX for around $5. My frame was 5×7 so I used the ruler in word to guestimate the approximate size the letters needed to be. I chose my colors to match my accessories I added to the frame. After cutting the "picture" to size and placing in frame, you now have the option to add accessories. Allow drying time.
My third gift was a little more special. I took the idea from Thanksgiving, when you say one thing every day in November that you are thankful for. So, my mom has a birthday right after mine, and since I will be twenty eight this year, I wrote her 28 things I was thankful for, obviously directed towards her. After I finished, I printed it out and realized I should have printed it out on some cuter paper, so I decided to draw some cute paisleys on mine. This gift was then folded into the card I got her.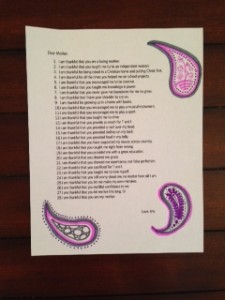 My mom and I have this problem, as I'm sure most do… it is very hard to hold onto a gift for a long period of time. So, my mom received her gift about 2 weeks early, and she LOVED it.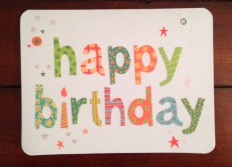 I love thinking of unique gifts to give people, but I get no greater joy than actually giving the gift. That brings true joy to my heart.
I hope this inspires you to create and give gifts from the heart!
Cheers!