This summer has felt crazy busy, so I was excited for our upcoming trip to Block Island. I had this picture in my head… sun, sand, and a drink in my hand. And I definitely got two of the three.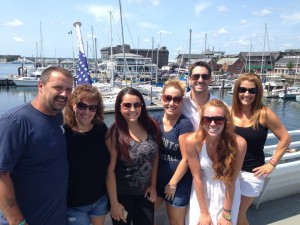 Mike and I met up with his three sisters and niece in Newport, RI for brunch at Benjamin's. A great way to start any vacation is with a mimosa. We then hopped on the Newport High Speed Ferry to Block Island. They weren't joking when they said "High-speed".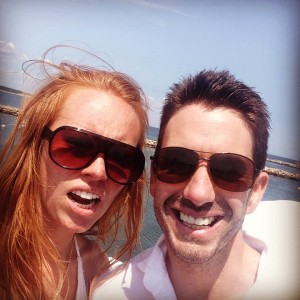 We arrived to the island about 50 minutes later, grabbed some necessities, and walked up to the Atlantic Inn. Our rooms were not ready until three, so we decided to sit back on the amazing porch to relax, enjoy the view, and have a cocktail.
After we cleaned up, Mike, Maria, and I decided to walk down and check out the scene, where we ended up at Los Gatos, or the Yellow Kittens Tavern. The rest of our party decided to join us for a drink a little later, where we soon headed over to Kimberly's for dinner. After a regular afternoon of shenanigans, how could we not stop at the Ice Cream Place?! Not the brightest idea after drinks… I couldn't finish mine. Sad face.
Saturday included renting a moped (my first time) and driving around the whole island! So. Much. Fun. We could not have asked for better weather.  While driving around, we noticed this place called The Oar sitting towards the back of some land that had a ton of umbrellas, so naturally we stopped for some lunch, where I had my first mudslide.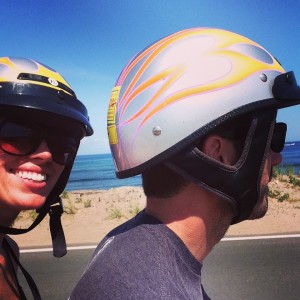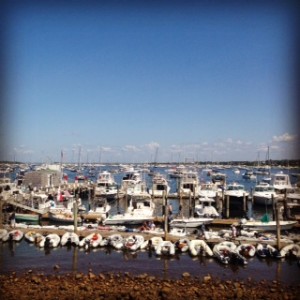 Definitely enjoyed and would highly recommend the transportation of the moped, it allowed us to see so much of the island. We drove up the Mohegan Bluffs, along the coastline, and then to the North Lighthouse. After lunch, we drove up to the Southeast Lighthouse, and then made it back in time to drop off the moped.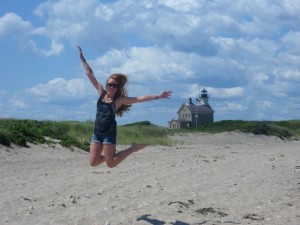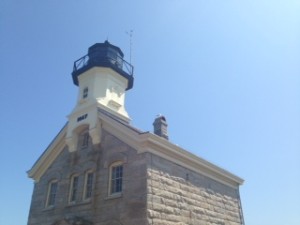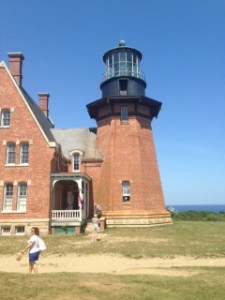 Usually I do a pretty good job of researching any place I visit, and yet all of us were unaware that it was a holiday that only Rhode Island celebrates (VJ day)… and it happened to be the weekend we were there. So, I'm not sure if this increased the amount of people, but it decreased our moped time. Thumbs down.
That evening we relaxed on the patio until all of us girls were ready, and then we headed down to a local seafood restaurant. After dinner, we decided to have a nightcap at our neighboring hotel, The Spring House. They have an amazing lawn, with the necessary white lawn chairs, that have a magnificent view over the ocean.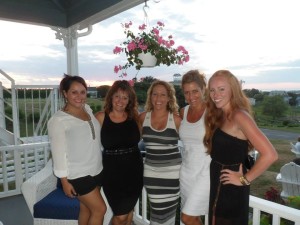 While it is pretty hard to top a moped ride, on Sunday, Mike, Maria, and I decided to rent bikes and explore the island a little more. We had the intentions of lying on the beach and evening out my tan from the previous day. But, this did not happen. We rode along the coast and made our way to Dead Eye Dicks. Let's just say those lobstah rolls are heaven. Maria had never had one before, so of course we had to try all three!!! The hot, cold, and the BLT lobster roll. There were no bad decisions and I could not pick a favorite from the three. From there we went to Beachead to have a refreshing beer and work on our sunburns, and then we biked it on over to National Bar and Grille. Their reviews showed a Goombay Smash, and if you know Mike, he is well known for them. So, of course we had to try it… let's just say, Mike wins.
Sunday evening was our last night on the island. Mike and I decided to relax on the patio of our Inn and enjoy some wine and appetizers. The weekend vacation was a little too short. I could have definitely stayed longer… and by longer, I mean live there.