I consider myself a fairly healthy eater. However, I have never consistently stuck to the meal that "most" would say is the "most" important meal of the day. I have gone through many phases, and at times forced myself to eat breakfast. I would say 50 percent of the time, especially during the work week, I do not crave a morning meal.
Of course, the story changes if there is a doughnut or another sweet treat laying around. So, with a consistent work out regiment and heading to the gym before the sun is up, my metabolism is also up. Which means I have been very hungry in the mornings. So I thought I would try a new oat recipe.
This recipe includes steel cut oats, which honestly, I have never made or ate before. I'm not sure what the texture reminds me of, but just a bit different from the rolled oats. And the apple in this recipe definitely mixes things up. This recipe could be used for almost any fruit, you just may have to adjust the cooking time.
Ingredients:
2 apples, peeled, cored, cut into 1/2-inch pieces
1-1/2 cups fat-free milk
1-1/2 cups water
1 cup uncooked steel-cut oats
2 tablespoons brown sugar
1-1/2 tablespoons butter, cut into 5-6 pieces
1/2 teaspoon cinnamon
2 teaspoons ground flax seed
1/4 teaspoon salt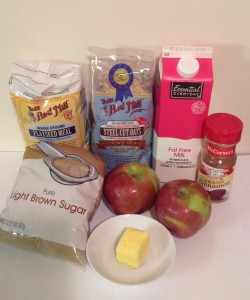 Directions:
Coat inside of 3-1/2 quart (or larger) slow cooker with cooking spray. (I used a crock-pot liner). Add and stir in all ingredients. Cover and cook on low for 8 hours.
Spoon oatmeal into bowls; add optional toppings, if desired. Enjoy!
Refrigerate or freeze leftovers. To reheat single servings: Put 1-cup cooked oatmeal in microwave proof bowl. Add 1/3 cup fat-free milk. Microwave on high for 1 minute; stir. Continue cooking for another minute, or until hot. Recipe can be doubled in 6-quart or larger slow cooker. Increase cooking time 1 hour.

Note: additional garnishes could include: chopped nuts, raisins, maple syrup, additional milk or butter, brown sugar, sugar