Weekends are meant for that unusual, but extraordinarily amazing breakfast. This last weekend I tried out a new recipe with a mix of ingredients from around the house. These muffins were a great mid-morning snack and they served as perfect leftovers for the next morning and afternoon snack. These are best served warm, with or without a little butter.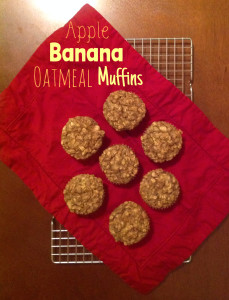 Prep Time: 15 minutes
Cook Time: 25 minutes
Total Time: 40 minutes
Yields: 18 Muffins
Ingredients:
1 ½ cups large rolled oats
½ cup all-purpose flour
½ cup ground wheat germ
2 tsp baking soda
½ tsp. salt
1 ½ tsp. cinnamon
½ tsp. nutmeg
2 eggs
4 tbsp. vegetable oil
6 tbsp. sugar
2/3 cup water (or milk)
1-2 mashed ripe bananas
1 med-large grated apple
Directions:
Pre-heat oven to 350 degrees F. Combine dry ingredients. Set aside.
Beat together eggs, oil, sugar, and milk in a separate bowl.
Fold in the dry ingredients and when the flour is almost combined, fold in the mashed banana and grated apple. Do not over mix.
Spoon into greased or paper lined muffin tins, about ¾ full and bake for 20 -25 minutes

Best served warm.