As you may know, most evening meals are filled with baked chicken and vegetables. Every once in a while we have the luxury of having salmon. Then it's usually, baked salmon with vegetables. Not much different, but a nice change. This recipe came to mind when I began looking for a recipe that was quick to put together and an easy clean up.
The zesty flavor is amazing in this dish. Although, the way the asparagus is cooked in this meal might be preference. Mike loved how the veggies were sautéed with the salmon, but for me, they were a little too soft. All in all, every item had great flavor and I would totally make this dish again.
Prep time            Cook time           Total time
5 minutes            25 minutes          30 minutes
Serves: 2
Ingredients
2 Salmon Fillets
1 Lemons
1 tbsp. Cold Butter (cut into 4 pats of butter)
1 bunch Asparagus (you will only use the tops)
Sea Salt (to taste)
Pepper (to taste)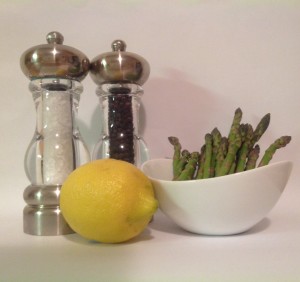 Instructions
Preheat oven to 400F.
Wash asparagus and cut spears in half. Place asparagus tops in a large bowl. (TIP: you can save the bottom of the spears for other uses like stir fry's).
Sprinkle sea salt, pepper, and juice from half of a lemon over asparagus tops and stir to evenly coat.
Cut a generously sized rectangular piece of aluminum foil and place asparagus side by side. Use enough to create a bed for your piece of salmon. Use anywhere from 6-10 pieces of asparagus per foil pouch.
Place salmon on top of asparagus. Sprinkle salt, pepper, and lemon juice overtop. Place 2 pats of butter over salmon. Top with 2 slices of lemon. Repeat until all foil pouches are created. Then fold foil pouches and close them (seam side up) and place in oven for 25 to 30 minutes, or until asparagus is fork tender.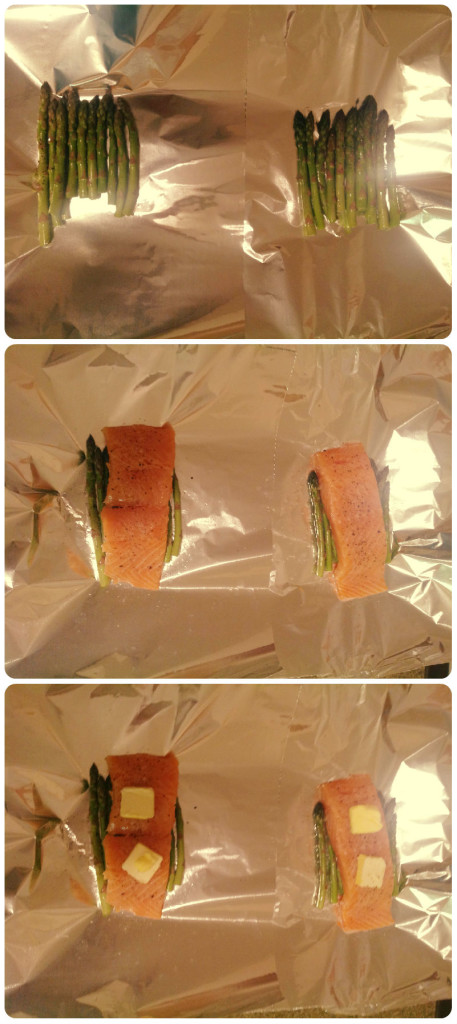 Nutrition Information: Serving size: 1 pouch Calories: 239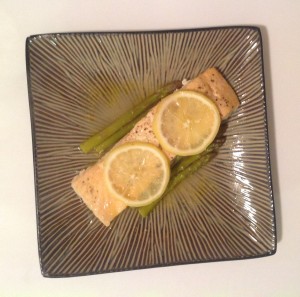 Author: Frugality Gal