I have a confession to make… Cinco de Mayo is maybe my most favorite holiday. Now, I know many of you will say that a) it's not a holiday and/or b) this has nothing to do with America… to each their own.
This is the time to bust out the sombrero, poncho, fake mustache, and whatever party props you can conjure up! How can the month of May be any more fun?!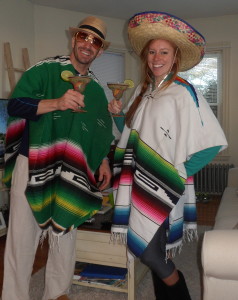 Cinco De Mayo Party Ideas:
Fiesta themed party décor! These items can be purchased at any Party City store. To go the extra mile, display assorted succulents and cacti, found at places like Home Depot, Ikea, and local nurseries. Just caution your guests that they are real – it's all fun and games until someone gets stabbed buy a cacti!
Mix and serve homemade margaritas! I will be posting a recipe for this easy three-ingredient concoction, no blender required!
Set the mood! For some reason we have a ton of votive candles, so these are perfect for placing around the house for extra lighting and ambiance. These can also be found at most dollar stores.
Use bright colors! Mix together a variety of flowers, food, candles, and vases for a stylish centerpiece. Adding a fun and colorful banner in the main room will set an awesome backdrop for pictures as well!
From décor to outfit. Party city offers sombreros, mustaches, and other creative accessories. The sombreros can add as extra décor and can be worn by those that want to feel a little more festive!
Mariachi music! Be sure to add a Mexican themed music station to your Pandora for some extra entertainment!
Don't forget to take pictures! Cheers!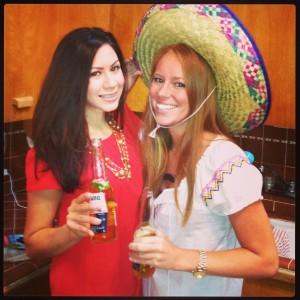 NOTE: For those that do not like the idea of Cinco de Mayo actually being a "holiday"… here are some facts: Cinco de Mayo dates back to May 5, 1862, when Mexican troops defeated French forces in the Battle of Puebla. Although this battle did not end the fight entirely, the defeat became historic and symbolic. Mexican-Americans began celebrating the day as a triumph of freedom and democracy. The fight happened elsewhere, but why not have the party in the U.S.A.!