As you may know, at the end of May this year (2015), I began yet another journey across country. This time, with only a car full of my belongings. We had done the trek across country with all of our "stuff" and gave this decision plenty of thought before embarking on this journey. So with our travel plans coming in the next year or so, we decided that now would be the perfect time to start living minimally. So we did just that. And it feels liberating!
Now, the long intro into this craft blog post came for a reason. I love to craft. It takes me out of my element and lets me create. So, one of the harder parts during this move was giving up some things that do bring me joy, but are replaceable. This being my art supplies. So, once we get settled into our new place, I am sure you will see more from me. But for now, I have one more cork project I would like to share until this craft hiatus is over.
The last two years for either Mother's Day or her birthday, I have crafted cork projects to include in my gift to my mother. Last year it was a cork heart and this year, I created an actual cork board. It was a success!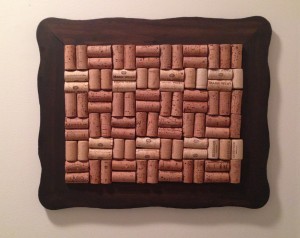 This craft began by first picking out the size and design I wanted. I found my "board" (which was really a picture frame – on sale) at Michael's. I find that Michael's usually has some good sales or coupons that are available from their website. The frame I found was on sale for $10! It was the perfect shade of brown to complement my cork colors. Color and size will be preference
Here is my cork board DIY:
What's needed:
Frame (picture or mirror)
Wine corks
Gorilla Glue
Newspaper
Heavy Books
Time:
1 hr. to create
24 hours to dry
Directions:
Lay down newspaper and your design. I prefer to set the corks how I want them to see a) how many I will need and b) what the overall product should look like.
Begin by gluing down the bottom most corks. Depending on the frame, it might make sense to start working from one side to the next. Glue about 10-20 corks to the frame back, place books over and let them dry for around 5 minutes. Continue doing the previous directions until you finish. When completed, add book(s) to balance on top and let dry overnight. Remember, this needs to be on a solid surface, where it will not be disturbed.
Note: Glue will drip on the frame; just know that it will dry clear.
EXTRA: If you are making the Cork Board as a gift, use wine corks from wine they like, and be sure to pack it with plenty of bubble wrap.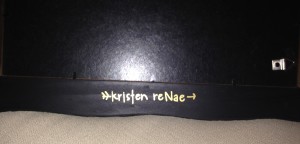 Cheers!