My love for wine has brought me to yet another craft. This time involving the upcoming holiday, Halloween. Who knew you could make this many crafts reusing wine bottles?! Excuse to buy more wine? I think so!
Here is my Halloween Wine Bottle(s) DIY or Hallowine, if you will:
The craft begins by polishing off a bottle of wine, or maybe three. First step… check.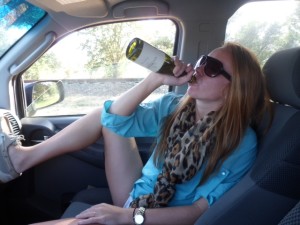 But seriously, what's needed:
Three Wine bottles
Paint – Green, Orange, White, Black
Gorilla Glue
Newspaper
Paint Brush
Paper Plate
Painters Tape
White Paper
Black Marker
Toothbrush
Time:
1-2 hours to create
24 hours to dry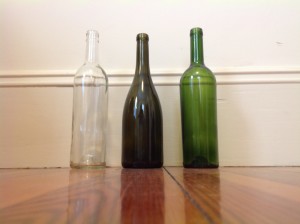 Directions:
Tape up the wine bottles tops, as desired (straight, wavy, jagged).
Lay down newspaper and pour paint onto a paper plate. Begin by painting all three with desired colors for the base (some might need a second coat). Allow drying time.

For the Ghost bottle, I used a toothbrush to create look.

Use white construction paper and a black marker to create Frankenstein eyes. Glue onto green bottle before painting other facial features.
Use the black paint, with a smaller brush to create the facial expressions.
When desired design is completed, allow bottle to dry overnight.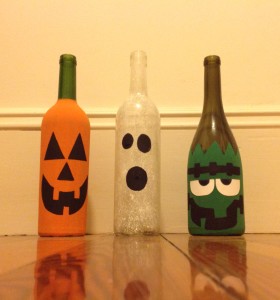 Note: Glue will dry clear.
We used these as extra decorations on our porch when we were handing out candy!
Happy Halloween!!
Cheers!