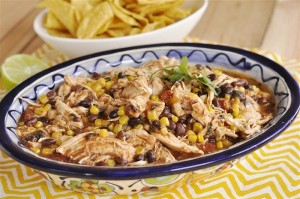 (Makes approximately 10 cups)
Ingredients:
4 raw, boneless, skinless chicken breasts
1 (15 oz.) can pinto beans (rinsed and drained)
1 (15 oz.) can black beans, low sodium (rinsed and drained)
1 (28 oz.) can diced tomatoes in juice, low sodium
1 pound frozen and thawed corn
1 (12 oz.) jar of your favorite salsa, low or no sugar
1 teaspoon of cumin
Seasonings to flavor
Directions:
Place the chicken breasts on the bottom of your slow cooker. Layer the remaining ingredients. Cook on low 5-7 hours or until the chicken easily falls apart when stirred.
Nutritional Content (for 1 cup): Calories: 300 Total Fat: 5 gm Saturated fats: 1 gm Trans Fats: 0 gm Cholesterol: 45 mg Sodium: 600 mg Carbohydrates: 31 gm Dietary fiber: 9 gm Sugars: 5 gm Protein: 27 gm
PLEASE NOTE: This recipe was taken from Pinterest and the provided nutritional information is an estimation. Nutritional content will be subject to different food brands. This information is for general reference and is not exact.