My first trip to Maui was an amazing trip, and I long to visit again. The only negative part about the trip, in my opinion, was the Road to Hana.  I had never been to the island before and I thought it would be a good idea to do the trip to Hana. And after all of the excellent reviews I read, I was totally on board…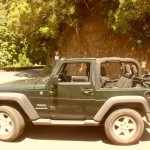 We started our trip at 8am, because as reviews stated, we would hit a lot of traffic; and with narrow roads and stops along the way, you wanted to avoid all that. So, we plugged our location into Google maps and began our journey. Before the drive even began, it felt like forever. Anyways, we slowly made our way up the mountain, and to confirm the other reviews, we did miss a lot of traffic. Many reviews said not to stop at every viewpoint that others had listed because they were a waste of time. And even though it might look like something interesting, it is probably a trickle of water. This was true. We first stopped at a couple sight attractions. O
ne looked like a mini waterfall and the other was a poor viewpoint of the coastline. We also stopped at The Garden of Eden, if you need a break, then it's worth it to stop, other than that, not worth the money. So we ended up stopping at unnecessary places, which led to frustration.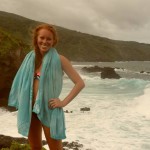 Continuing on our "adventure", we stopped at the seven pools, did some cliff jumping into the cold water, saw some crazy people diving at extreme heights, and got some cool pictures. Then we proceeded to the Red Sand Beach. Not as cool as the reviews said, but maybe it just depends on what beach you like. I prefer the beach with white sand, which is soft and warm, and not incredibly busy. So, this wasn't for us.
We then checked in to our adorable cottage, with a huge front yard and the perfect place to see the stars! The night was pretty easy, because there is NOTHING to do. Mind you, we reserved a place there, because many of the reviews said it was impossible to do the trip in one day. The trip is totally feasible in one day, depending on what you have your heart set on. So, we had dinner at the Hana Ranch Restaurant. Sat on the patio, listened to the band, and ordered the BEST fish I had the whole trip. The night concluded by gazing at the stars back at our cottage.
We did have plans to wake up early to see the sunrise at Haleakala and then walk the bamboo forest. However, this did not happen. We were so disappointed about the drive that we decided to wake up early and head back to enjoy a day at the resort.
Overall, we were very disappointed about the drive to Hana. There were definitely some pros and cons to the trip. Would I do it over, probably not. The only reason I would do the drive to Hana again would be to do the sunrise at Haleakala. The many reviews said this was very captivating.
Depending on what you expect out of this adventure, I hope my review has helped.