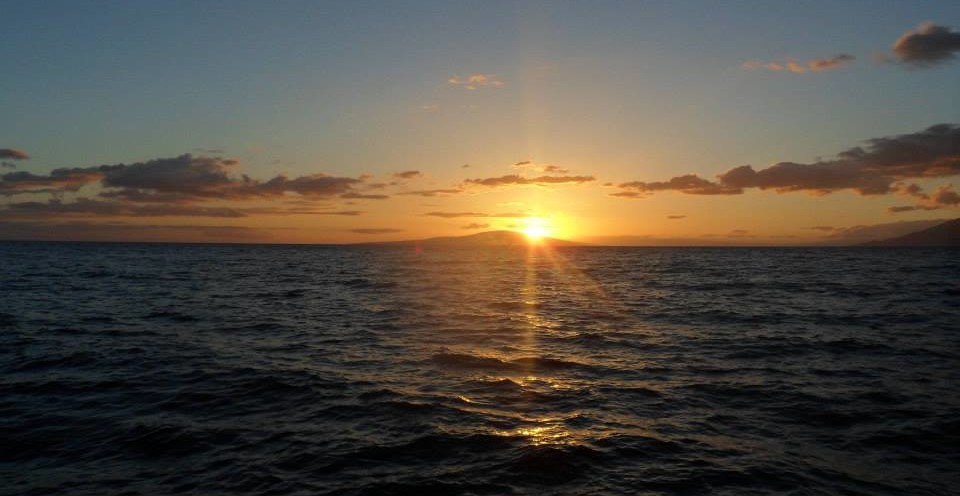 This was my first visit to Hawaii, so of course we made the best of it. Ten days seems like a long vacation, but once you are there… it's not long enough. Here was our itinerary: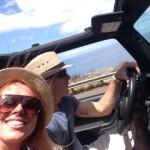 Days one through five: After a long, but exciting flight, we arrived in Maui. With the hot and humid air around us, we were feeling relaxed already. We rented a jeep (totally worth it) and were on our way. (Note: always check the top before leaving the lot; we almost left with it being broken!) From there, we drove to our hotel and checked in at Wailea Marriott Beach Resort and Spa.
We stayed in Wailea the entire trip, not sure why we didn't have high expectations, but we were taken aback by this place. During our check-in process we happened to be talking to the MOD (manager on duty) at the time, who definitely hooked us up. Our room was located on the south side with an ocean view. Not only was the location convenient, but our balcony view was of Molokini. AND our balcony overlooked the grassy area where they had the Luau three of the five nights we were there, so we basically got a free show! After we got over the shock of how awesome this was, we decided to take a dip in the ocean. Warning! This may cause instant relaxation. For the night we were pretty tuckered out from our travels, so we decided to order room service, pick up our own cocktails, and sit on the balcony and watch the Luau.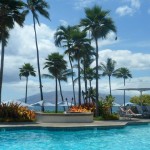 From the moment we stepped foot on the island, the adventure never stopped. We began by renting snorkeling equipment and practicing close to the shore before we went out on a more extravagant adventure. We had our hearts set on so many destinations and things to do, but thankfully we were able to squeeze in fun with relaxation.
The second day was full of wind in our hair and sun on our faces. We drove to the other side of the island to Lahaina Historic District and found Kimo's, where we had morning cocktails overlooking an amazing view of the ocean.  After brunch, we walked around all of the little shops and across the street was the Old Banyan Tree. This was an amazing landmark and it was very peaceful. We proceeded to walk around a bit more, and then stop in Lahaina Pizza Co. to pass some time before we had to get ready for our Luau that evening.

We kept things simple and got ready in a public restroom (way easier than I thought). We then drove to attend the Old Lahaina Luau. This was such a great experience. There was a small wait, until we were provided lei and escorted inside. We found a great bartender, Brandon, who took care of our drinks before the festivities began. The event provided time beforehand for guests to walk around and soak up the gorgeous view, while sneaking in a few pictures. After about an hour, the actual Feast began by two men digging up the pigs that had been roasting underneath a pile of dirt all day. This was such a grand presentation and definitely worth watching, but is optional. After that, we proceeded to our table with about ten other individuals, all with different stories and where they were from. The food was set up buffet style. There were so many items I had never heard of or that were cooked differently. While everyone wrapped up dinner, the magnificent Luau show began. This showcased their culture and history, while inter-mingling a love story. The Old Lahaina Luau was a beautiful event and is highly recommended.

We followed up the evening event by stopping in Old Lahaina to grab a drink at Cheeseburger in paradise. We had stopped by earlier for a beverage and they were setting up for a live musician, so of course we had to go back. Little did we know, it was some old school rock-and-roll. Not what we were in the mood for, so we only stayed for a couple songs. While heading back to Wailea, we stopped on the side of the road to gaze at the stars. It was the most brilliant sky I have seen yet.
We signed up for two events with one catamaran. Each adventure was unique. The first was snorkeling in Molokini. We made sure to drive into town to pick up an underwater camera before heading over to meet-up. This was a packed boat and when we finally arrived at our destination, we were given two hours to explore and snorkel – with only one rule: do not get close or touch the barrier reef. Only two people made this mistake, and we had a good laugh about it. Surprisingly enough, the two hours went by incredibly fast. We were back in the boat before we knew it and headed back to enjoy the rest of the evening poolside.

Day six: Our itinerary was scheduled for an eventful day riding around in the jeep. So, we checked-out early and began our adventure on the Road to Hana. I will be writing a separate review on our experience, as many people ponder whether it is worth it. On day six, after reading many reviews, we decided to add Hana to our itinerary. This might be the only negative/worst part about the trip. We started our trip at 8am and began our journey. We stopped at the seven pools, did some cliff jumping and then we proceeded to the Red Sand Beach. We then got to check out our adorable cottage with a huge front yard and the perfect place to see the stars! The night was pretty easy, because there is NOTHING to do. So, we had dinner at the Hana Ranch Restaurant. Sat on the patio, listened to the band, and ordered the BEST fish I had of the whole trip. We did have other plans, however, we decided against them and headed back to the resort.
The remaining four days were split between the Grand Wailea and the Four Seasons Wailea. This included paddle boarding and attempting to snorkel again. Later in the trip we took the same catamaran with Kaikanani, but for a different reason, to do a sunset cruise. I personally had never done one before, so this was so much fun. We were taken out on the open water for a couple of hours. We trekked out to Molokini and over to the other side of the island, all while sipping on some beverages and snacking on hors d'oeuvres. On the way back, that's when we were able to capture a beautiful sunset. It was a little worrisome since there were heavy clouds that day. But we had a clear view, and it was amazing.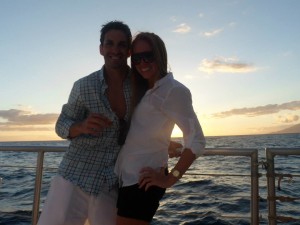 One place we consistently visited during our trip was Kihei Cafe. This little restaurant had a phenomenal breakfast menu, which included some amazing cinnamon rolls. And when I say amazing, I mean they are good enough to run away with. We also ventured off trying different restaurants, including a small pizza joint, our hotel restaurant, and the classics: Nick's and Mama's Fish House. All are highly recommended.
Other suggestion: Most of the resorts offer a free class in scuba diving – it would definitely be worth trying on our next visit. We had to first get comfortable with snorkeling.