We received a proposal the first month of 2016 from our friends, Troy and Dorene, to come visit them in Medellín, Colombia. They had been living there for three months and had an available room in their apartment. So, two weeks later we packed our bags for another adventure.

Originally we planned on three weeks, but I talked Mike into committing for four weeks. The trip started off a little rough, as we took a red eye to Miami and then flew into Medellín, Colombia early Sunday afternoon. Troy met us at the airport with his driver to ease us into South America.
The drive from the airport was mostly downhill, which provided magnificent views of Medellín. To compare to other large North American cities, Medellín is a city of 2 million people, however, instead of clustering all of their large buildings together, they are spread out with the mountains surrounding the city.
Once we reached our new apartment, our new housemates shared a beer with us and then got us acquainted with our neighborhood, Envigado. We went on to the bank to get some local currency for rent and other miscellaneous items. And then we headed over to the grocery store for some necessities.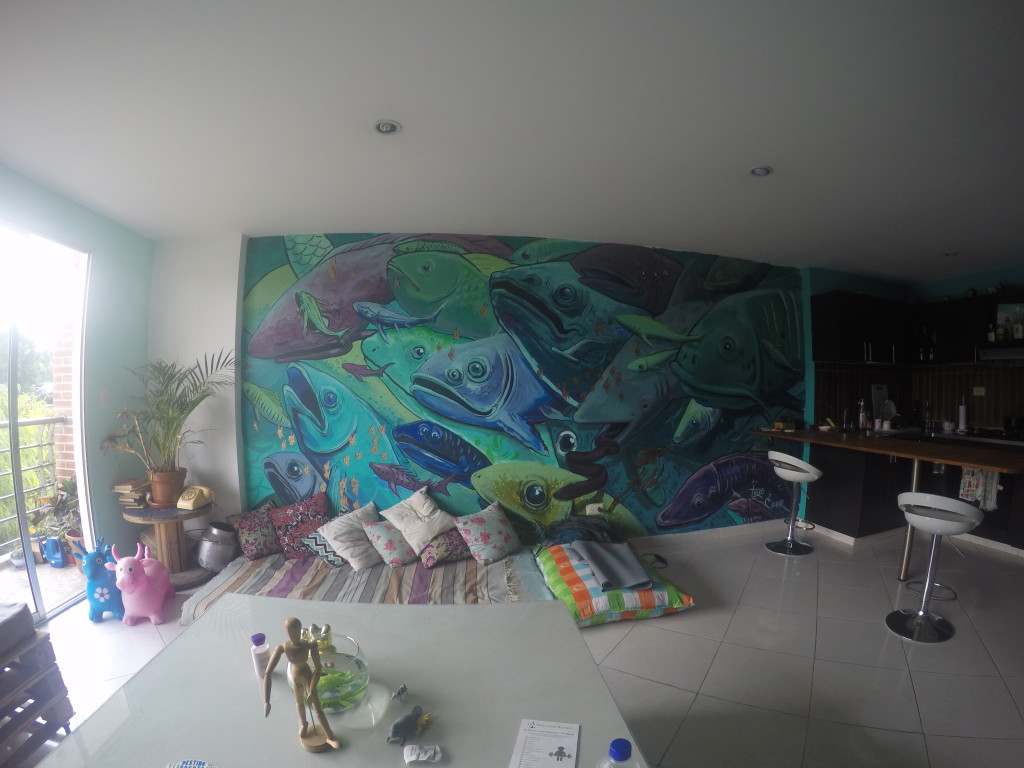 As soon as we stepped foot into Colombia, I knew we were going to face difficulties with the language barrier. Even with the little that Mike and I knew and the assistance we got from Troy and Dorene, it was still intimidating.
After getting some much needed rest, we began falling into our normal routing. Waking up, heading to the track for a few laps, and then beginning our work day.
The track was very convenient due to location (it was one block from our apt.) and provided entertainment while working out, as this was where the local teams practiced and played fútbol. All ages walked and ran around the track with fit camps on both ends.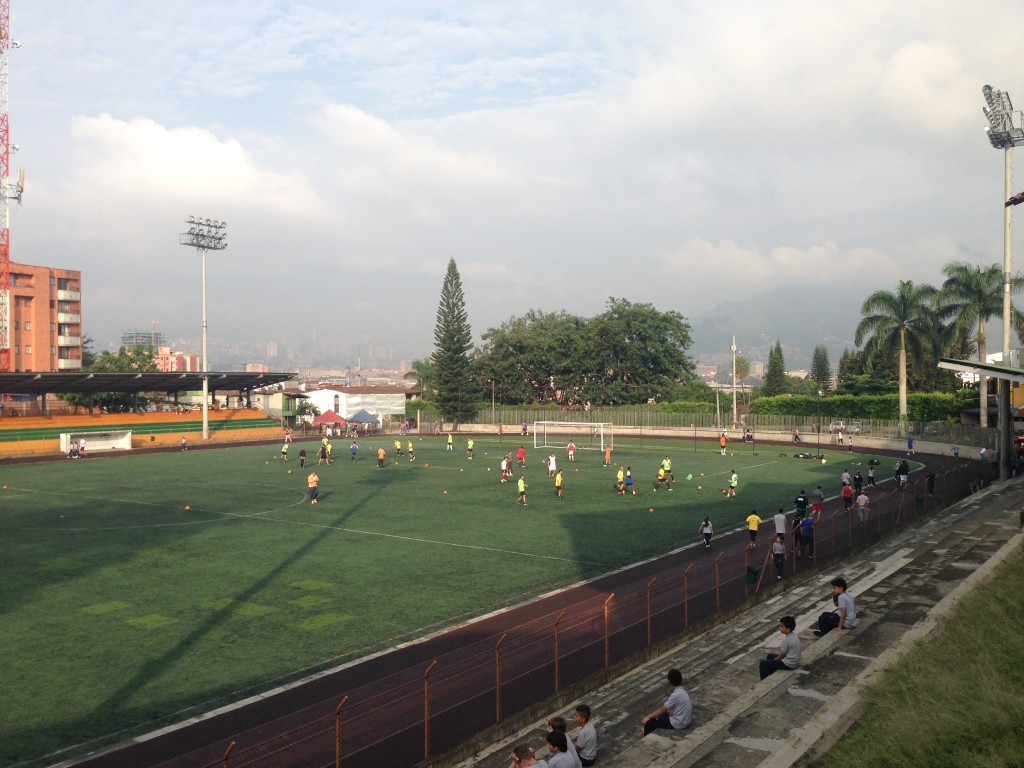 One of the things we were looking forward to, was the delicious Colombian coffee and our housemates had brought some back from Bogotá! No creamer or sugar needed!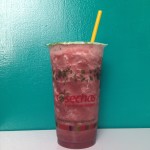 The work week started off rough as we transitioned back to the Eastern Time zone. It was easy to stick to our normal breakfast routine with ample fresh vegetables and eggs available. However, Mike and I would also grab a fresh mixed juice from this place called Cosechas down the road. Always fresh and delicious!
Every once in a while we treated ourselves to arepe de juevos (two fried corn tortillas with a fried egg in the middle +a side of siracha), a pastry, and/or a buñuelos (which quickly became my favorite). We also tried an arepa de chocolo con queso (arepa with cheese and optional sauce) – a must try!
As for lunch, about once a week, Mike walked down to a local café and got their "plato a la dia" (plate of the day which is similar to the Bandeja Paisa) which came with some type of freshly squeezed juice for the drink (refreshing), some type of soup, and a hearty platter of rice, chicken (meat of choice), salad and a mixed salad, yucca root and mini arepas. Most bandeja Paisa's include rice, beans, meat, avocado, egg, and plantains. All for the great price of $2.79 American dollars (per plate). Now, that is crazy!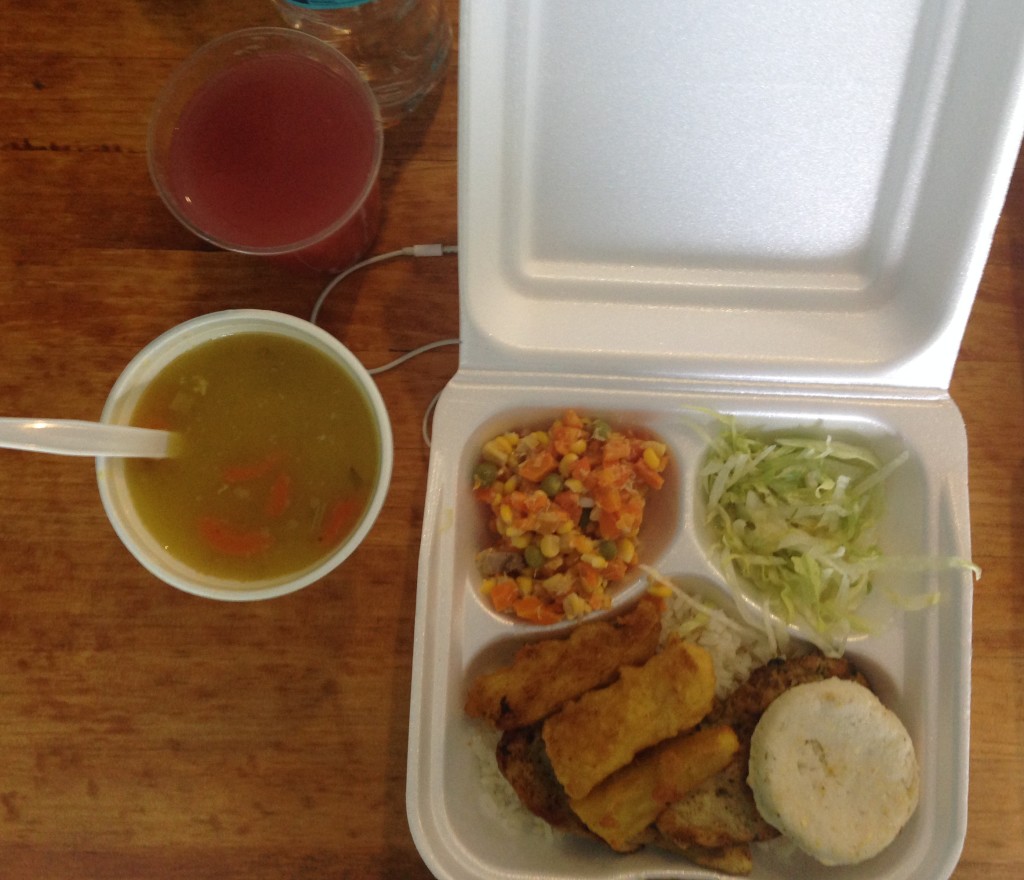 Monday through Friday, after the work day was over, it was time to relax. I would grab a glass of wine and go out on the deck to enjoy the hustle and bustle of the neighborhood as everyone was heading home or out on the town. We lived off of a very busy street, and there was a lot of traffic, constantly. Our guide once made a comment that the dirt bikes were the "Japanese revenge". This was no joke. The dirt bikes, motorcycles, loud cars and buses passed by every few minutes.
Dinner each night was whatever we could throw together. The prices were beyond reasonable, so we had many nights of fresh veggies and chicken made into different dishes. As for the rest of the night, it was a little bit of work and play.
Our housemates also introduced us to another local joint called Hugo's. The owner, Hugo, and one of his employees, Carlos quickly became friends. Delicious food and always great conversation.
Our first Friday evening we were there, Dorene took us to the language school a couple blocks from our apartment. Every Friday night the school hosts a meet-up for locals and those involved with the school from 5 to 9 pm who would like to practice Spanish or English. Sounded a bit intimidating, however, we showed up on the tail end and really enjoyed it. The owners are also creating a brewery, so they had a couple beers on tap to enjoy while we met and chatted with a few teachers and friends.
While we had our normal work week, we tried squeezing in touristy things on the weekends. We went into downtown Medellín and walk around the Botero Plaza and along the streets to a large farmers market. We enjoyed a fútbol game, tried local beer and food, and we participated in the "ciclovía" (the city shuts down one side of their street for locals to run, walk, or bike from 7-1). We also traveled to a couple other cities within Medellín and went on a couple tours (more posts to come).
We walked around Poblado (aka the gringo/tourist area) where they had the Llanes Park with many restaurants surrounding it. We visited this area a few times as there was more going on here than our neighborhood.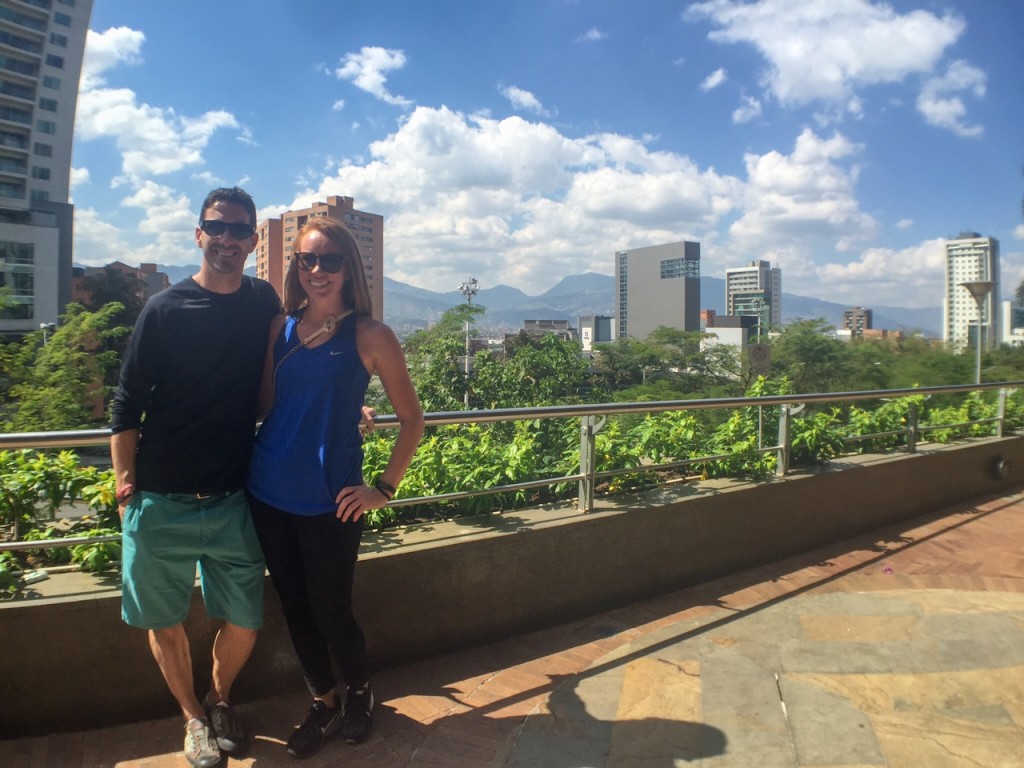 Many times when we were ordering, it was usually a struggle, and quite frankly became exhausting. However, the people of Medellin were always very patient, and as long as you put in the effort, they in return would do their best to understand and assist with the order.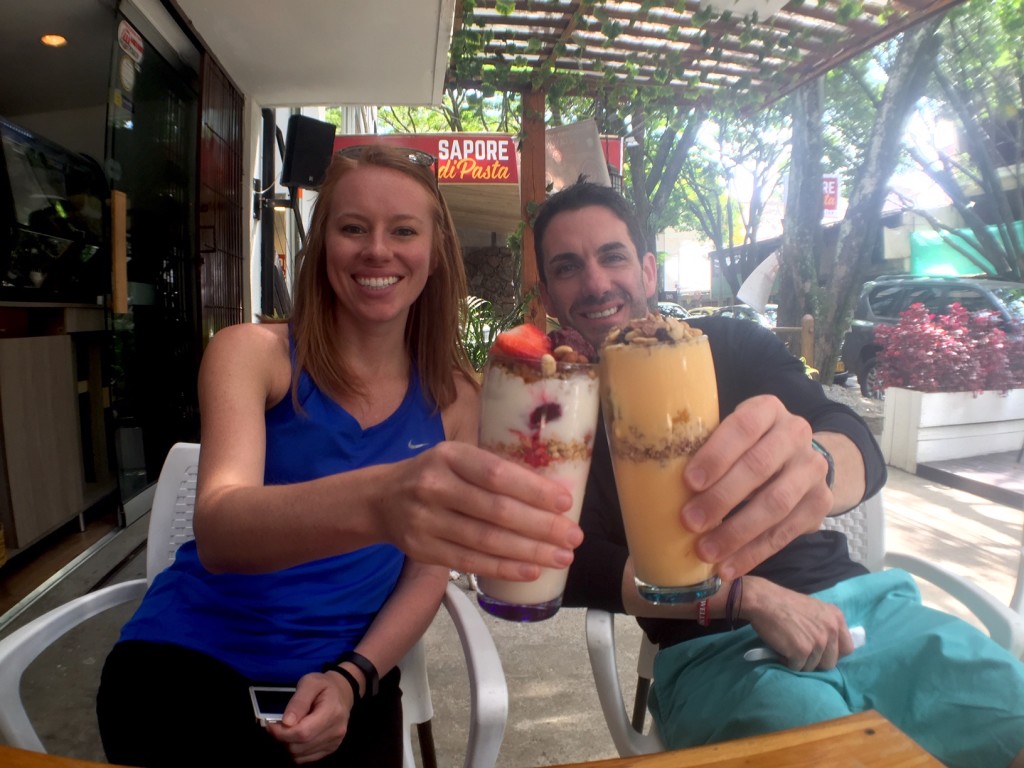 Our last evening there, our friends took us into Poblado for a final Colombian meal (per my request). They took us to this restaurant called 3 Tipicos and we were able to try another Colombian dish called Ajiaco (a rich potato-based soup). So scrumptious. Afterwards, we had intentions of grabbing a drink and hanging out in the local park. However, the police had a different plan and basically kicked everyone out that was drinking.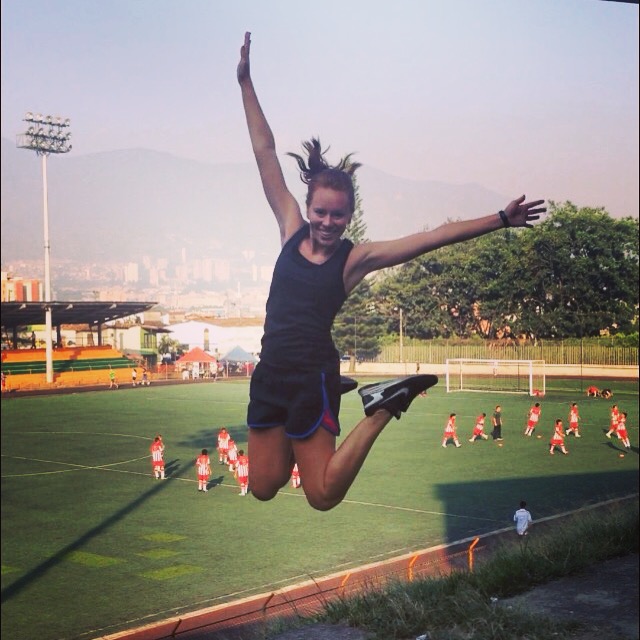 The year of adventure started out with an unexpected trip to South America. A big thank you to Troy and Dorene for the invite!
Also, there will be more blog posts to come on our adventures in Colombia which will detail more of our experiences.
Cheers!