Our trip across the Atlantic Ocean began on a Friday afternoon. Hunkered down at the Logan Airport in Boston, we stopped at a lounge for a quick bite and glass of wine to start our adventures. Every flight is an exciting feeling; however, this trip was a little different.
We booked a one-way ticket!
We had a very brief layover in Portugal (i.e. running through the airport), only to be met by a long line for immigration. After sweating to get through that line, not knowing if we would make our next flight, we ran to our terminal and (thankfully) made it with a few minutes to spare. The flight to Rome wasn't bad (compared to my first flight last year), but then once landing, it was trying to remember which train to hop onto to get into Firenze. With a little help we grabbed a couple tickets for an hour and half train ride into Florence.
Once we arrived, another "adventure" began… our search for our Airbnb. When you receive directions on how to locate each place, they seem very informative at first, but ultimately are very vague when trying to navigate the streets of Florence. We managed to find a café with wifi so we could communicate with our host. After we were able to coordinate with the host and get unloaded, we were off to roam the streets.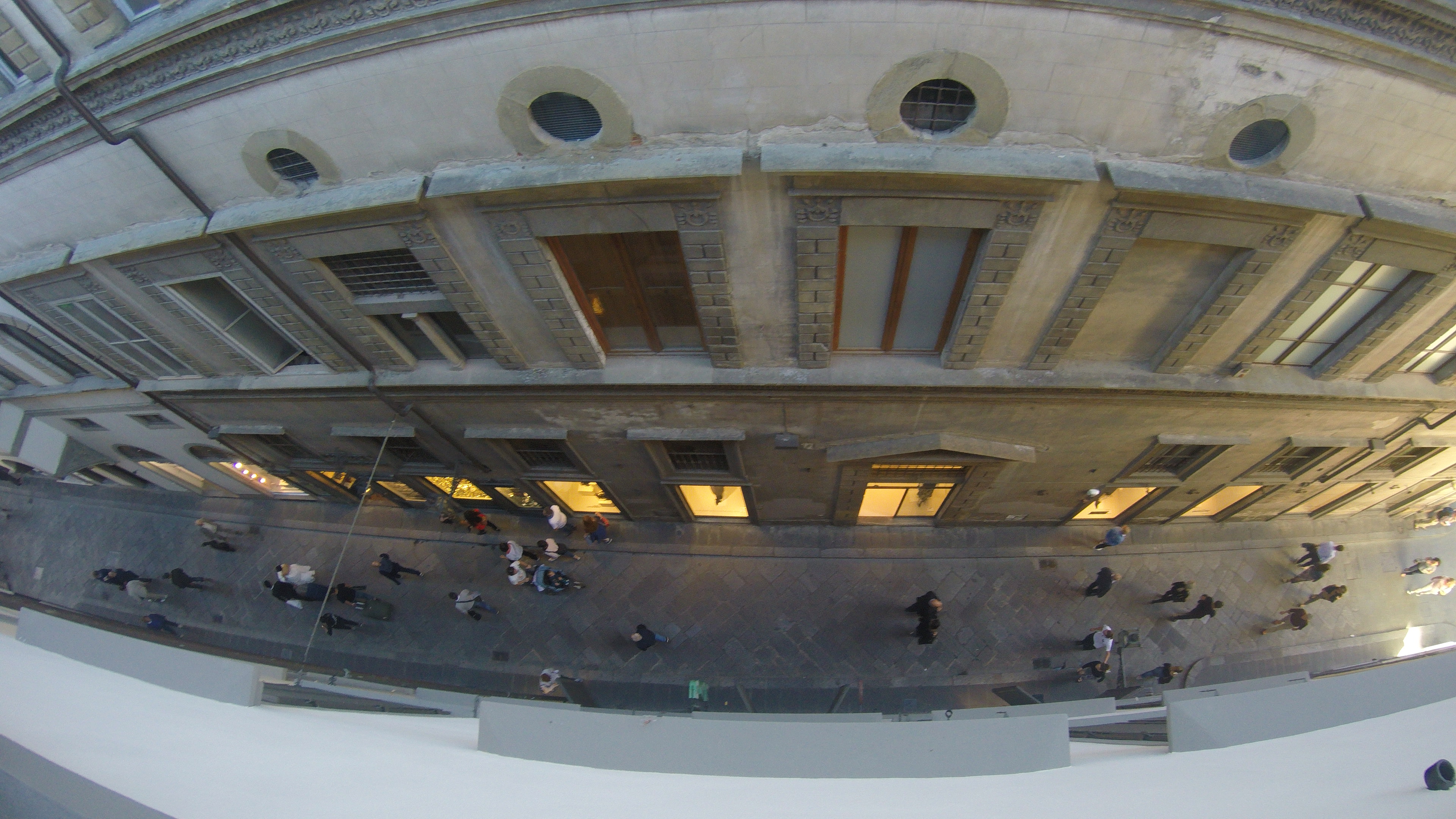 We were pretty familiar with our visit last year, so we just walked around, grabbed a panini from our favorite place and then proceeded to head towards the Piazzale de Michelangelo. We hung out there for a little and with no plans ahead of us, we decided to just grab a bottle of wine, sit on the steps with the locals, and watch the sunset. It was such a genuine experience and I would highly recommend this.
While roaming around trying to get different views of the sunset, we started talking with another couple there who we ended up having dinner with. This was the experience that we were looking for, to meet new people along the way. The night ended well and we called it an early night.
The next morning we packed up and started roaming the streets until our friends came to pick us up with their driver. We found a restaurant called Reverse, it seemed a little modern for our taste, but it had a ton of space. We ordered a pizza and a bottle of wine and our friends showed up earlier than expected. So we jumped in their car for an hour drive to "the castle".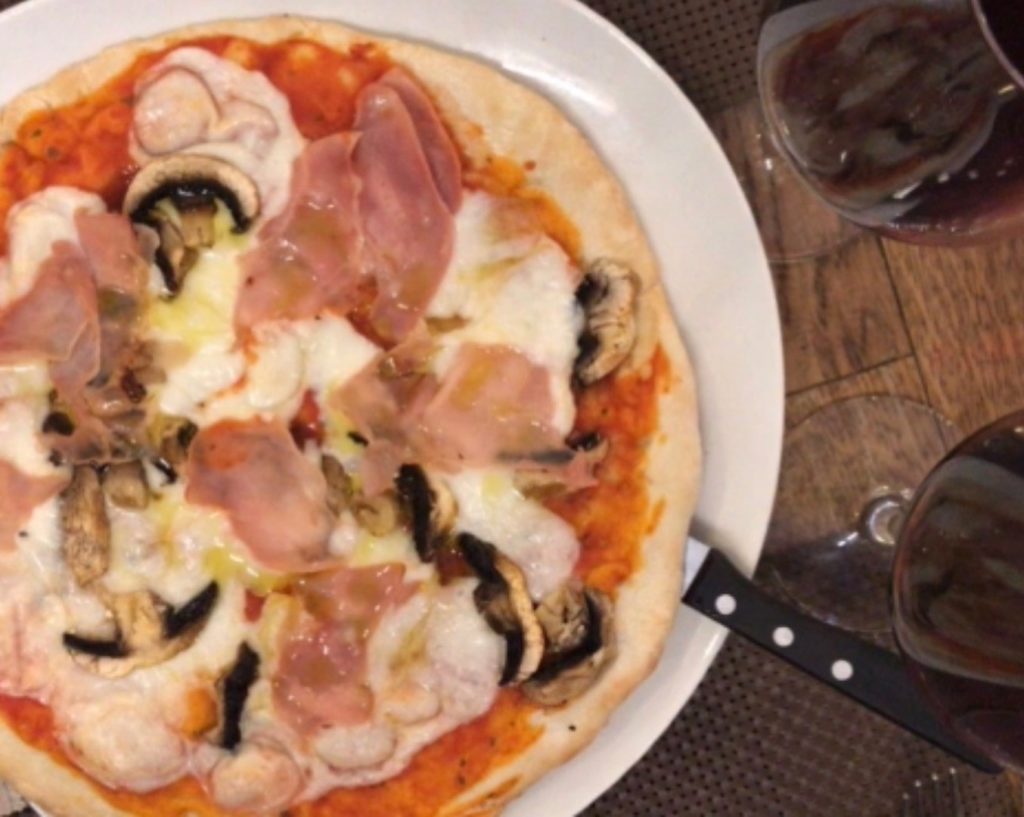 Our first week in Italy was spent with them and the itinerary they planned. This was a very nice experience and start to our trip. Once we arrived, we were provided a tour of the grounds. We were given our own villa with a 360 degree view over the Tuscan hills, vineyards, olive trees, and endless sky. It was absolutely breathtaking and gorgeous, every single day. The weather we experienced was not normal for the month of October, but I had zero complaints.
Our first day was for relaxation. We navigated our way to the Simple Market to grocery shop for the week. We gathered everything we needed and then some. Once we got back to the house, we began prepping an enormous charcuterie board and a bucket of sangria to enjoy by the pool.
Later that evening, we had pizza night lined up. The kitchen up at the hotel preps the dough but we make everything else. It was such a fun experience! Rolling out our dough, prepping the fixing's on top, and then using our brick oven to cook them. It was a great night with fabulous conversation and phenomenal people. This was only day one.
The next day, our hosts lined up a tour + tasting at Colle Bereto, one of their favorites and a first for us. We were a little early so we made a quick stop in Radda in Chianti to roam around. We were met by Bernardo, the winemaker to introduce us and begin the tour before Stefano took over. Our time there was during part of their harvest season, so it was cool to see some of the process.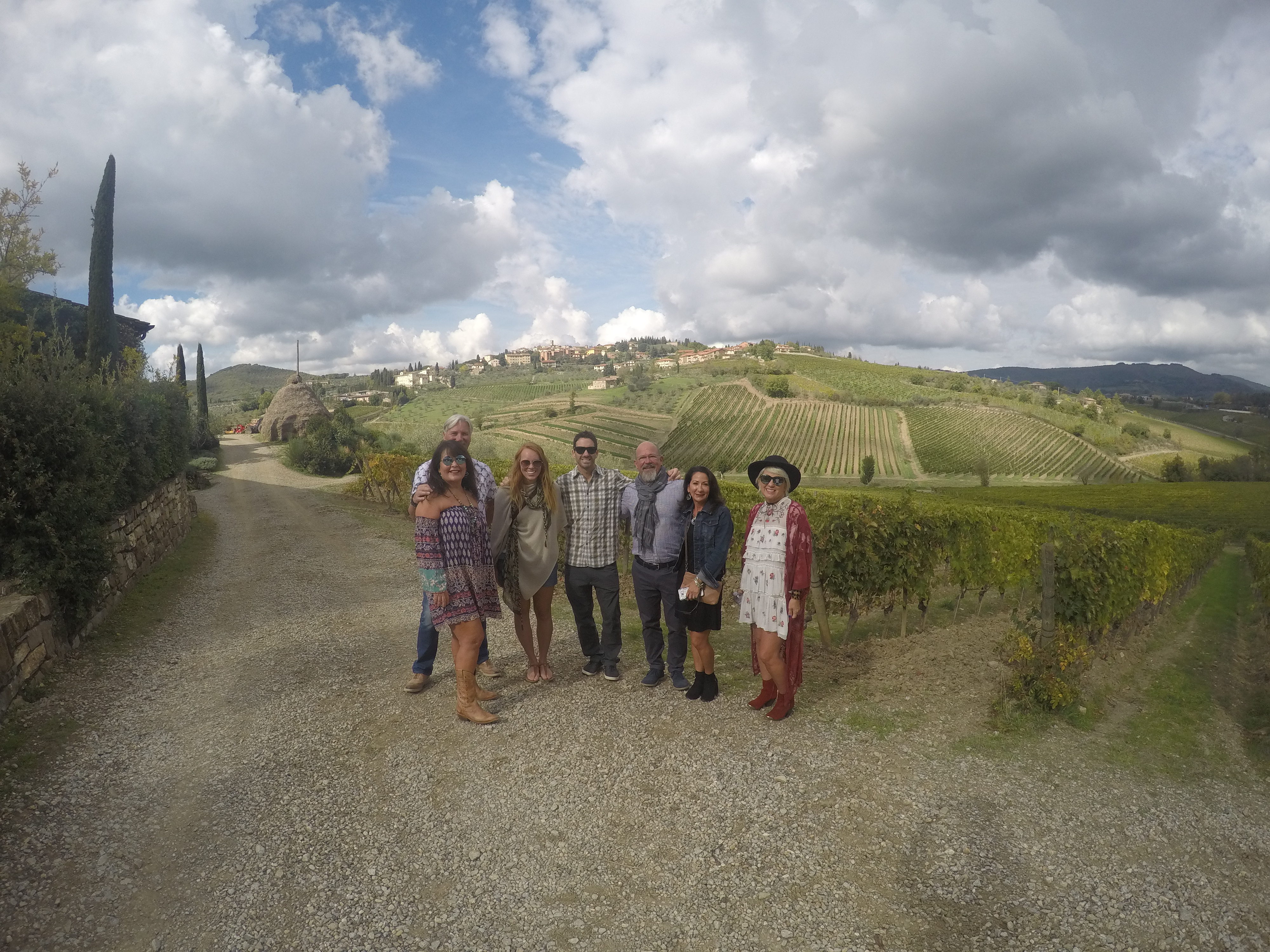 The tour turned into a tasting of their wines paired with dishes made by the chefs from Touch. The three chefs: Matteo, Max, and Stefano were all fabulous and provided entertainment during the entire process. We topped off the experience with a couple additional bottles of wine, because, wine not?!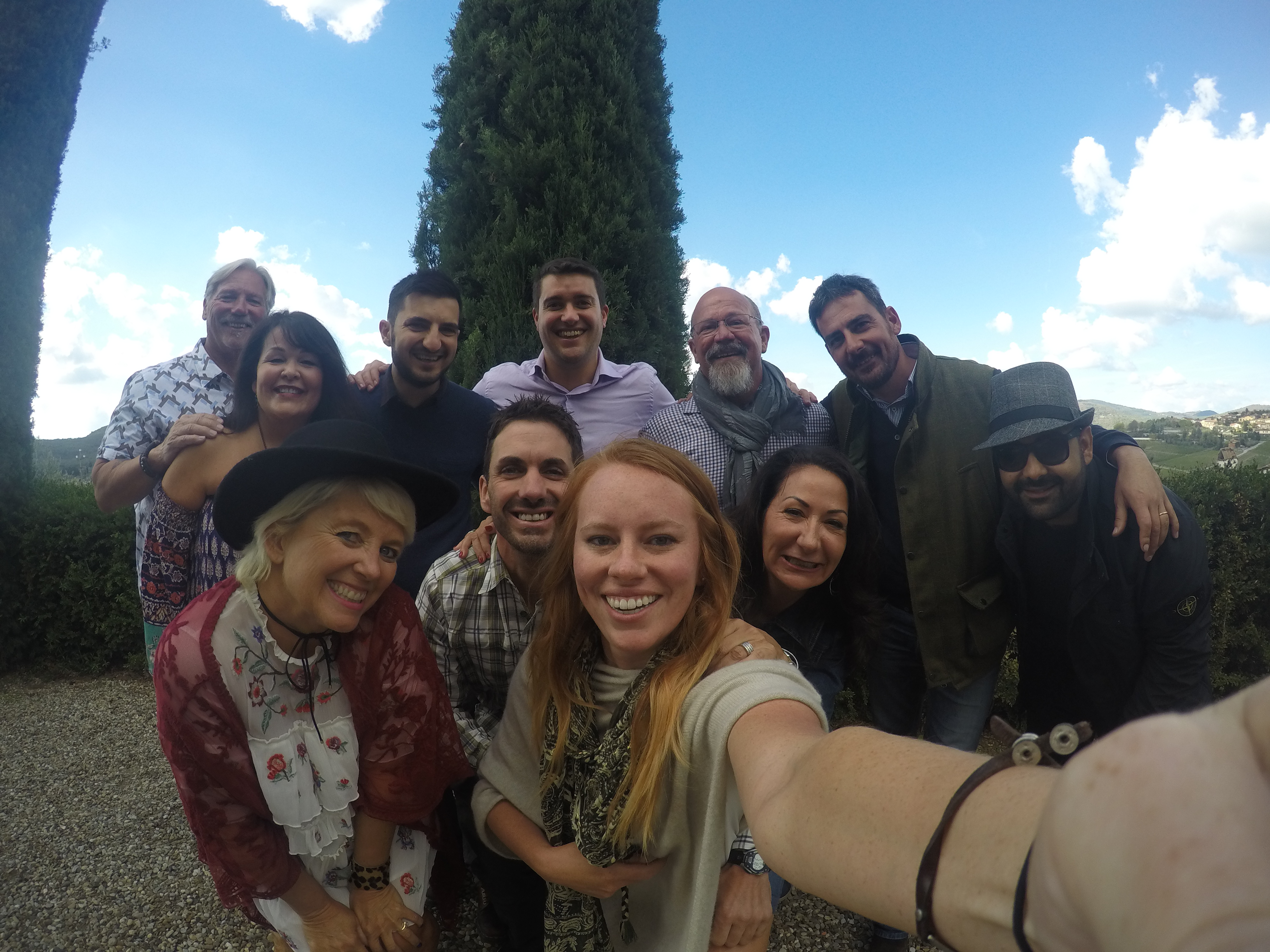 Our lunch was scheduled at Del Duca, another favorite of our hosts. And it did not disappoint! After our delightful lunch, we decided to make a quick pit stop in San Gimignano, seeing how it was on our way back. We were familiar with the roads from our last visit, so we wandered the streets, grabbed a gelato, and enjoyed it in the town square.
The following day was a last minute decision to set up a cooking class with the guys from Touch from our winery tour. They own a restaurant in downtown Florence and offer a variety of classes. So, we took a drive into the city and met the guys at their restaurant.
From there, they took us on a short walk to the local market. We bought everything from celery, tomatoes, the in-season mushrooms, to the fresh-cut cheese and meat. A great experience watching the ordering process, but I still have no idea what I would order going in there alone.
We walked back to the restaurant and had small talk before our first dish was ready. The chef prepared several courses from the fresh local ingredients we brought back from the market. This is how the majority of restaurants cook – they pick up their ingredients daily. It was another beautifully paired course of food and wine with great conversation.
Afterwards, we decided to hang out in Republic Square to waste away some time. We enjoyed a spritzer (or two) while people watching. Another very interesting and great day.
As our week together was ending, we had another winery tour scheduled at one of the oldest wineries in the Montepulciano hills, Avignonesi. Although the harvest season ended a couple weeks prior, we began the tour in the vineyards. We learned that the D.O.C. label meant that they cannot use anything foreign, including water. They can only use natural water, as in rain. So the weather predicts their seasons, and this season was not so good. 🙁
We followed our guide upstairs where they keep their 10-year barrel aged balsamic. A tiny bottle of their production can cost roughly 90 euros but could seriously be poured over ice-cream, it was that good! Continuing our tour, we walked underground in their natural cave/cellar and learned more about their wine production and natural resources.
After obtaining a ton of knowledge on the process, we were taken to a beautiful veranda with about ten tables that overlooked a portion of their vineyards. The chef met us to explain the menu and pairings. Here we got a choice of which dishes; so, we all got a mix to try everything.
Saturday was our last full day, and we all decided that a relaxing day by the pool was the best fit. We made another sangria and awesome charcuterie board to enjoy by the pool. It was a beautiful day.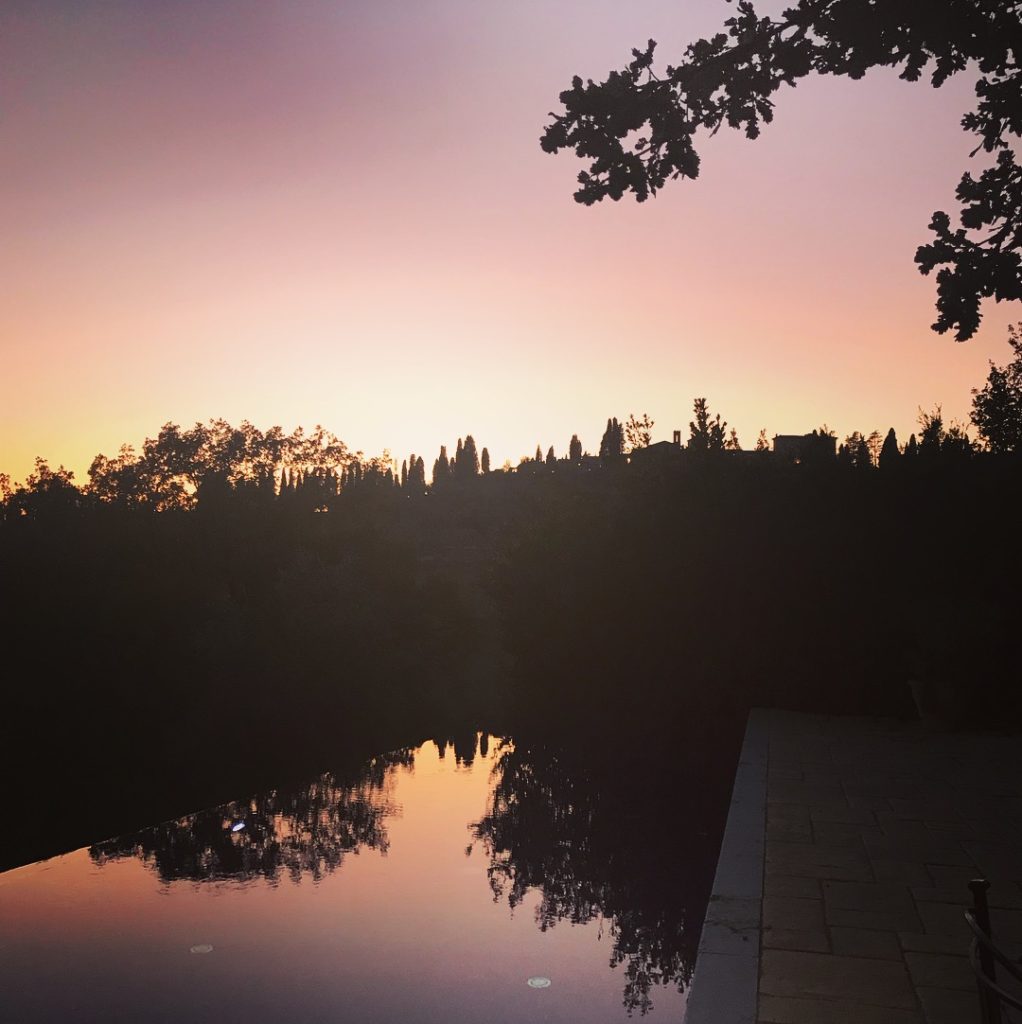 For our last meal together, a couple chefs from the hotel prepared a full course dinner for us. We started out by the fire with a few appetizers and then proceeded inside for our entrees and desert. Everything was beautifully prepared and it felt like a Thanksgiving dinner with family and friends.
The first full week in Italy will be something I will cherish and be forever grateful for.
Although we started our trip out on a different foot than planned, it was a great adventure to kick off our round the world tour!