With Santa Barbara less than four hours from San Diego, we do a weekend getaway here at least once a year. The last time we visited Santa Barbara was in October for our Pacific Coast Road Trip, which was amazing. This time, we went for a little R&R for Mike's birthday!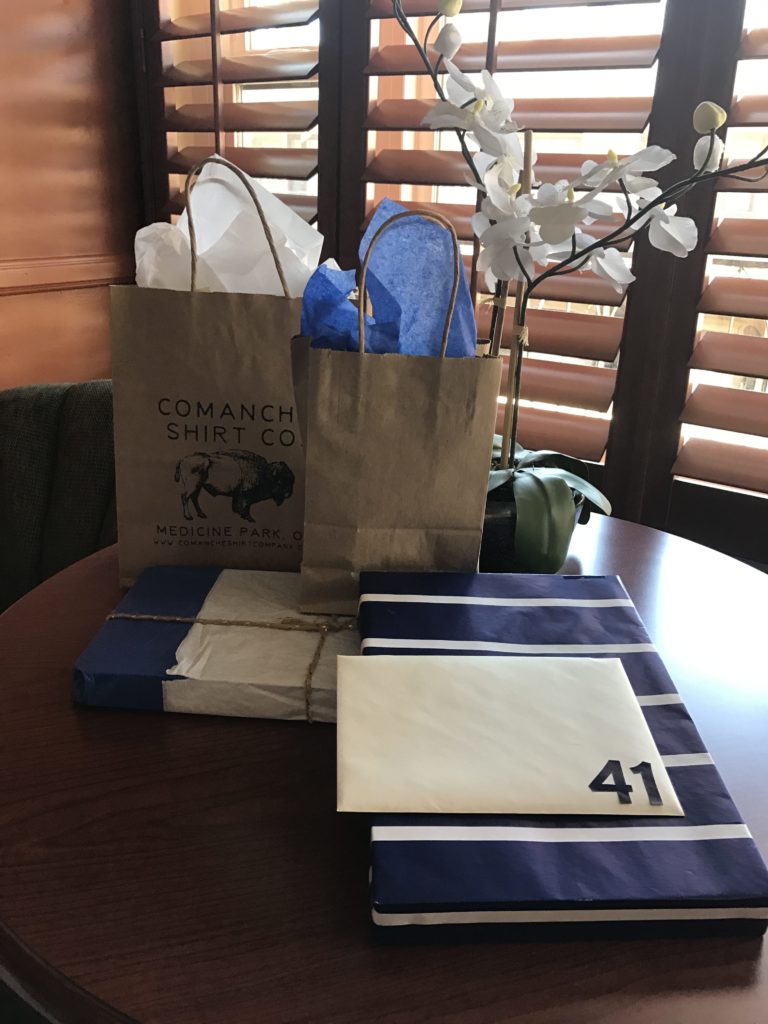 We again stayed at the adorable Brisas Del Mar Inn. I cannot say enough about this place, and would highly recommend! The area is small, but the location is ideal.
As soon as we get in, we sign out two of their bike cruisers (they offer for free to their guests) for a ride around town. Our first stop is always Brophy Brothers. This place has a spectacular view over the boats and into the mountain side, it is definitely worth it. Depending on the weather, we usually sit outside, but opted for the bar this go around. After having a delicious lunch (including their clam chowder) and a couple glasses of wine, we returned back to the boardwalk!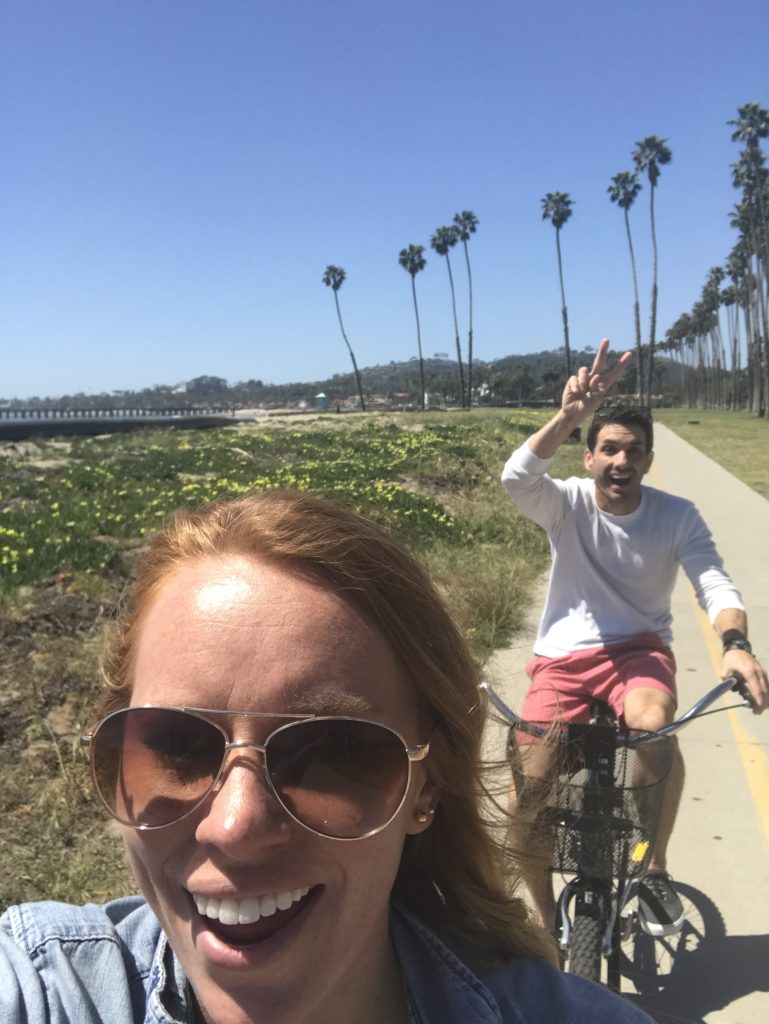 After riding around for a while, we decided to head back to our Inn to relax. We laid around the pool, took a nap, and rested up before happy hour started. One of the best things about this Inn is that they offer a happy hour with wine, cheese, and other snacks. This is then followed by a cookie and milk reception.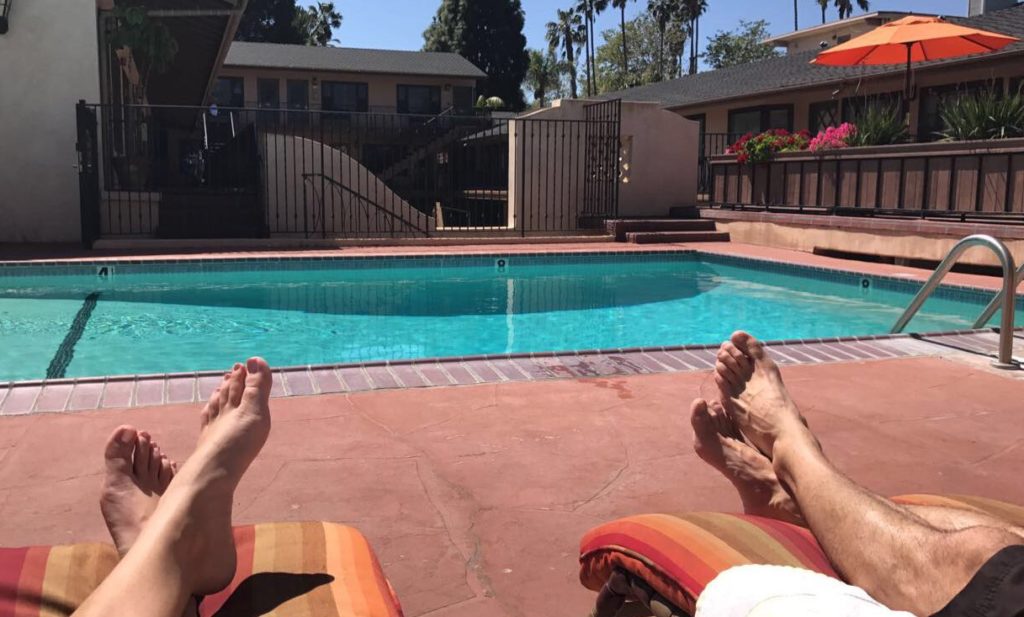 The next day we planned as our winery day. And as you know, I love my itineraries, so our day trip looked like this:
We started with one of our favorites (we seriously never miss this place with every visit): Rancho Sisquoc. They are open from 10am to 5pm with a $10 tasting fee. I am not ashamed to say that we always leave with a few bottles (or a case) of wine after each visit! They have beautiful grounds and of course great wine!
Next, we stopped at Foxen Vineyards. It's important to note that this winery has two locations. Their original location is known as "the shack". This location is highly recommended if you have a smaller group. However, if you have a large group, the newer location offers much more space.
This winery was new to us, but loved their location and the open feel of "the shack". They are open from 11am to 4pm with a $15 tasting fee. We were the only two visiting, so we got to learn a lot about the history and the wines. Our hostess then suggested we try Kenneth Volk winery.
We stopped in at Kenneth Volk, and again, it wasn't super busy, however, there wasn't much attention provided in explaining the wines. The ambiance was ok, your tasting was inside the barrel room. There was a dog with another couple visiting, so that definitely made it more enjoyable. They also have a nice outside area, which we could have gone out there for but opted to stay inside.
We had plans on stopping by either Fess Parker or Foley, however, we had a coupon for Zaca Mesa. So, we decided to stop in there. I had only been here once before, four years ago, so I thought it was time to try it again. Mike and I had an excellent time the first time, but this go around we didn't enjoy the wines or experience as much. This estate was a lot busier than the other locations we visited, but their grounds are great for large parties.
We had one last place on our list, which was also recommended. Our last stop was Rusak Winery, open from 11am to 5pm and a $15 tasting. We squeezed in right before they closed for the day, and we are very pleased with this place, and will definitely make it back to this location. Their patio was pretty large, covered by big, beautiful trees, overlooking vineyards and rolling green hills in the background. It was very relaxing!
After our day trip, we made plans to eat at Benchmark Eatery for Mike's birthday dinner. This is a sister restaurant to Brophy Brothers and was recommended the last time we visited. A great restaurant with a nice ambiance, however, it wasn't as upscale as I had thought it was going to be. Nevertheless, I would still recommend for some good eats.