From a young age, I always loved crafts and finding ways to reuse objects around the house. This might be why I have a slight obsession to Pinterest and attempting to create the many crafts and DIY projects from the site.
You might have seen my love affair with wine from my travel excursions. So, what better way to showcase my love? My first wine cork creation was the Cork Coasters. I originally made them as a gift, but loved them so much, I made a set for myself.
Here is the cheap and easy DIY Cork Coasters:
What's needed:
32 wine corks (or 16 if you cut them in half)
Gorilla Glue
Newspaper
Heavy Books
Time:
~30 min to create
24 hours to dry
Directions:
Lay down newspaper and your design with eight wine corks. Begin by gluing two corks together – press together and down on a solid surface for about 10-20 seconds. This allows the glue to work its magic. Then, do another two just the same, only this time add them to the first set of glued corks. You will continue to do this with the remaining four.
When you have one cork coaster done, make sure there is no unnecessary glue hanging out and place a book on top. This weight will help the corks stay in place and stay flat. After finishing the remaining three coasters, allow them to dry for 24 hours, especially if they are for a gift.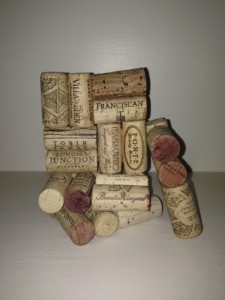 The option to cut the corks in half is for a more flat service, but as the corks are dry, I didn't really trust them… or my skills on cutting a straight line with a sharp knife.
The cork coasters are a great addition to any household! Not only will they not scratch any surfaces, but they also prevent a pool of liquid from condensation! Awesome!
EXTRA: If you are making the Cork Coasters as a gift, add a personal touch by adding corks from their favorite bottles!
Note: As this is a wine project, there is no shame in having a glass, or two, of wine while you work! Remember… save the cork!
Cheers!