With my love affair with wine and the corks they produce, the next Pinterest craft was the cork letter. There are several options for creating the letter you want.
The first letter I made was for myself… I mean, who doesn't want a big "K" showcasing memories from the wine they drank?!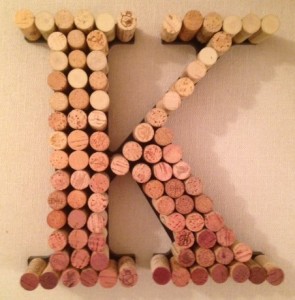 The craft began by first picking out the size and design I wanted. I found my letter at Hobby Lobby (not in all states), because Michael's offered letters in the smaller and larger version. Hobby Lobby had the medium sizes that were already painted black. Color is also preference and the plain letters can be painted to your liking.
Here is my wine cork letter DIY:
What's needed:
Letter(s)
Wine corks
Gorilla Glue
Newspaper
Heavy Books
Time:
1-2 hrs to create
24 hours to dry
Directions:
Lay down newspaper and your design. I prefer to set the corks how I want them to see a) how many I will need and b) what the overall product should look like.
Begin by gluing down the bottom most corks. Depending on the letter, it might make sense to start working from one side to the next. Glue about 5-10 corks to the letter, place books over and let them dry for around 5 minutes. Continue doing the previous directions until you finish the cork. When completed, add book(s) to balance on top and let dry overnight. Remember, this needs to be on a solid surface, where it will not be disturbed.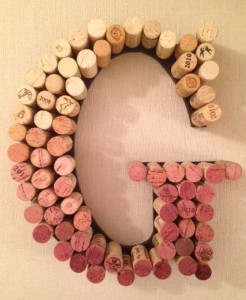 Note: Glue will drip on the letter, just know that it will dry clear.
EXTRA: If you are making the Cork Letter as a gift, use wine corks from wine they like, and be sure to pack it with plenty of bubble wrap. Also, bring glue in case a cork falls off while unwrapping.
Cheers!