With this being my first competition, let's just say I was probably over-prepared. I read several blogs of what to bring with you to show day. I was able to pack the below in a medium size duffel bag. I brought all of the below to pre-judging, and when I came back to finals, I took about half of the items out because they were not needed. But again, better to be over-prepared, especially for pre-judging.
Flip flops
Loose dark clothing (robe/romper)
Resistance bands
Cooler (separate bag)
Bikini bite
Make-up
Crazy glue/sewing kit/scissors
Hair spray/ties/brush
Dixie cups
Wipes
Heels
Jewelry
Cash
Tissues
Mirror
Q-tips
Toothbrush/floss/mouthwash
IPod
Nail file/clippers
Phone charger
Safety pins
Umbrella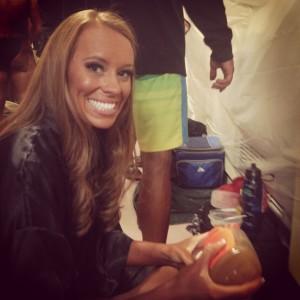 Our venue was located at a high school, so we had access to large bathrooms. There were also lots of full length mirrors arranged for everyone to use. I wasn't sure if individual groups brought these in or if the host provided these – but either way, you would still have access to the bathroom mirror. I do want to make a comment about the umbrella as well. The whole weekend it called for rain, so I came prepared with an umbrella, hoodie, and trash bags for "just in case". However, we were lucky enough to miss the rain. But when I came back for finals, there were a handful of people that had finished before my class, and they did catch some sprinkles, and you could see this on their spray tan! The worst part… the tanning people were not doing touchups for finals; so many people were scrambling to fix some issues. Just be prepared!
Other items:
Extra bikini
Lock
Change of clothes (for drinks after)
Posing oil (provided by venue tanner)
Directions
Trash bags
Jan Tana
Blanket (something to sit on)