In October of last year, Mike and I went on a new adventure and we brewed our own beer! This always seemed like something dudes do; But who am I to decline a new adventure?
We were living in Watertown, MA at the time, and down the street was a place called Hopsters. They create their own craft beer, awesome bar food, and they have a nice rustic ambiance. Oh, and they also let you brew your own beer!
So, we signed up! As you can imagine with the craft beer scene blowing up over the last few years, this was a popular activity. We arrived a bit early, with enough time to enjoy a flight before our creation.
When our turn arrived, we were greeted with a huge binder full of options to choose "our" beer. We narrowed it down pretty quickly to a Maple Irish Red. We had an awesome brew master that walked us through the entire process. You get a list of all the ingredients and directions. It was a fun process to go through the pantry and gather everything for the recipe and then mix them all together at "pivotal" points.
We took a little twist on ours and added bourbon soaked wood chips to add additional flavor. After all items were added, which the process took probably an hour or so, the brewing was basically done. The beer has to work it's magic, so we were instructed to come back in a month to bottle it.
So, about mid-November we were back to enjoy the bottling process. There were about two other groups bottling – so it was a bit crowded, but a ton of fun!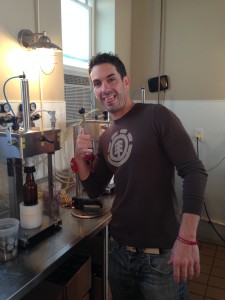 Another fun piece that Hopsters offers is to choose your own name/picture as the label. However, you are instructed to cap the beers and wait until they have been in the bottle for a while before you adhere the label.
The total count ended up being about 3 cases worth of beer! So, with the holidays coming up, we decided to gift some to our neighbors and friends. I was able to snag empty six pack cases from the convenient store down the street – and got a little crafty with them.
It was a great adventure and we will definitely brew more beer in the future.
Cheers!