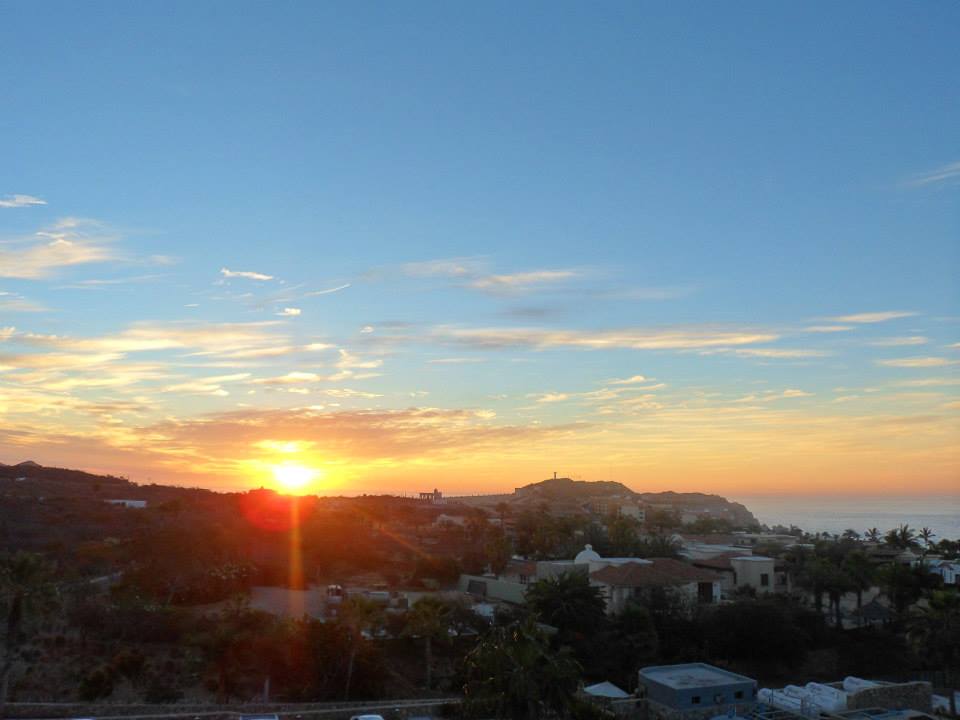 Now that I have told you about the "authentic" and "real" Mexico, I would like to tell you about my travels from a totally different perspective. A few months later my boyfriend and I had an unbelievable opportunity to travel to Cabo. Now, this place was DEFINITELY on my bucket list! We ran into an old acquaintance of my boyfriends at Roy's in San Diego and they just so happened to be in between travels. They were on their way to Cabo for a couple of weeks with another couple, but had an extra room… Who were we to say no? After getting home and making a couple more cocktails, we booked our trip. Spontaneous, yes. Totally worth it, YES!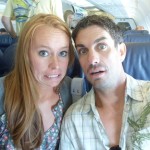 The scariest part about this trip was booking our flight with Spirit Airlines. I had personally never heard of them, but my boyfriend had heard some stories and read reviews. Those horror stories sounded awful, but we couldn't get out of our ticket, so we tried to make the best of it. The only thing you could do in that situation is be prepared for everything. We paid to have our luggage with us and prepared for the worse. What we got, a cramped seating area, okay staff, but overall, we landed safely and were not worried about the flight back. What a relief.
Our friends told us that we would have a driver waiting for us.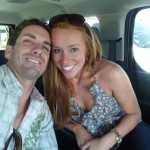 Wait… A driver?! Heck ya! Let's just say we definitely didn't do our research on where we were staying, so we already felt like celebrities before arriving to our Escalade. The drive was pretty much dessert, but nonetheless exciting!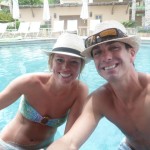 We pull up to Esperanza, where we would be staying for the next few days. We are greeted with mini margaritas and taken poolside where our friends were already enjoying life. We then get a tour of the condo… (Jaws open). We go to the room (I freak out for a bit); we change, and then join our friends at the pool bar. You know those infinity pools that look like they are going into the ocean; this was my first time seeing one. (Jaws open again) We continue to have a lovely day by the pool, not even prepared for the days ahead of us, but not a worry in the world.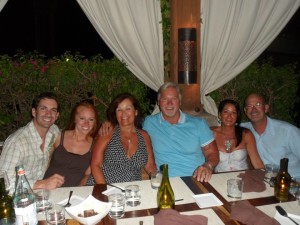 We prepare for our first night out, with dinner reservations at Bar Esquina. There we had some delicious food with some awesome drinks… which led to dancing. Back at the condo, there was a night cap to end the first night perfectly… well, almost perfect. The funniest/scariest part of the trip was waking up to my bf hovering over me with a pillow at two in the morning. Did I seriously think he was going to suffocate me… no, but did I think he had issues… yes. It turns out that San Diego is a lil' different than Cabo. We unconsciously slept with the windows open which led to multiple mosquito bites. I didn't wake up to one bite; however, my boyfriend can apparently hear their wings. There was blood everywhere… eww. But we learned our lesson.
I don't think we could have prepared ourselves for Day two. We decided to get breakfast on the beach… literally; our table and chairs were sinking in the sand. Awesome food and ambiance, with a little people watching. The only uncomfortable part was the vendors that constantly interrupt your meal trying to sell you random pieces of jewelry. I of course fell for it.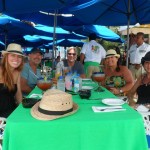 You know, I just needed that straw hat. Anyways, I got my boyfriend a matching one so he didn't feel left out. Our adventure continues as we get to take a water taxi to the other side of the city. The bottom of the boat was clear… really cool. The taxi took us to our next destination, which happened to be a private 48' catamaran. A half day trip on this will make you feel like a million dollars. I had never been on a catamaran before. (Jaws open again) The boat trip took us to the infamous rock and surrounding beaches: honeymoon and divorce. This was more for picture opportunities.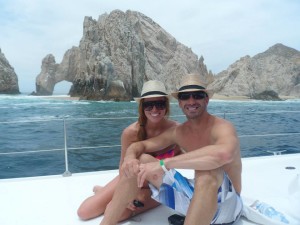 From there we were taken around to a good area to snorkel at, this place was packed, so we decided to go to an alternate area. Very secluded. We anchored up, and while the guys prepared a lunch for us, we got our snorkel gear on. This was my first time to go out this far out in the ocean and my first time snorkeling. Let's say my anxiety got the best of me half way out and I had to turn around. My boyfriend was not that comfortable either, so we just stayed around the boat floating around. We had our prepared lunch and heavy alcohol beverages and prepared for the ride back. Let's just say, "It feels good to be a gangster".  After making our way back to land, we decide to walk around for a few more drinks. We could definitely tell that we were no longer on tourist ground. Our first stop was to Happy Endings and then we stopped by Monkey Business for THE BEST MARGARITAS! It looks almost like a little stand surrounded by stores. A couple Margaritas down with a couple carne asada tacos, and I am the new owner of a Poncho… You know, they just make you feel better than everyone else. We continue back to Esperanza to finish our night of great company, wine, music, and cigars.
Our third day of the trip was another awesome day by the pool. By night time, we were following a musician to a downtown bar and restaurant. After the show, and a few cocktails, we head over to Edith's for dinner, where there was an awesome Mariachi band, great food, and great service. And of course we couldn't leave without visiting Cabo Wabo. Let's just say, we ALL left really disappointed. Not sure who the band was and I think I was the youngest person in there. Needless to say, it still makes for a good story.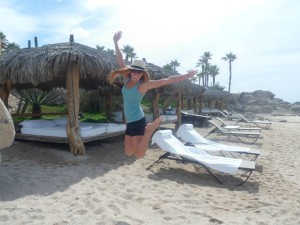 Now, that is how you do Mexico.