As you read in my previous post, this bikini competition prep has many challenges that you will face going into it for the first time. Hopefully these posts will help you get ahead of the game!
My first bikini posing class was a success; however, I did not own the correct competition heels yet. So, I showed up to posing practice with the "tallest" heels I own. They are a little over four inches, however, it is preferred that girls have at least a 5" heel. Not just any heel, but a heel that is clear and looks like you should be running the street. Yes, hooker heels.
This adventure took me approximately a couple of days. I googled "hooker heels" and I read reviews and I looked at hundreds of images trying to see what would look best and be the most comfortable. There were several sites that were suggested, but I finally ended up going to Amazon. They ultimately had the best prices and had a great selection.
I narrowed my choices down to the brand "ellie" and the final choice was between strap vs no-strap. I finally decided on the strap. (Ultimate reasoning was mainly due to height and less risk of tripping and falling – but this is preference).
It only took a few days to get them in, and that evening I practiced in them. And by practice, I mean that I walked around the house for approximately five minutes. My goal is to wear them for a bit each evening and to practice posing as well!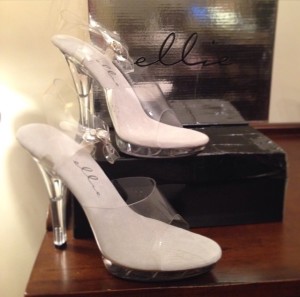 Again, practice makes perfect!
**Note: I will be participating in an NPC competition – it is worth the time to see the Federation rules in which you choose. Different federations have different rules on style of shoes! Bling! Bling!